Already Registered? Login Here!
Sealing temperatures over 1,000 ℉? We've got you covered.
Newly Improved Phlogopite Mica Materials Provide Reliable High-Temperature Seals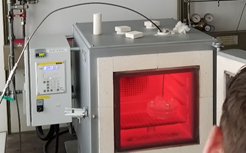 Extreme sealing! We all depend on it. Our entire petrochemical industry is possible because of it. Sure, everyone can seal water and steam. But 3,000-psi breach-lock heat exchangers? Molten Sulphur? Catalyst regeneration systems?
Fortunately, our industry has created innovative and reliable solutions for a wide range of extreme sealing challenges. Aggressive chemicals? We've got you covered with a family of PTFE products. 2,200-psi heat exchangers running at 850⁰F? No problem. We've developed metal/graphite composite gaskets in several styles to meet your needs.
The most glaring hole in our defensive line has been for that small subset of sealing applications over 1,000⁰F. Up to that point, flexible graphite is reliable and comfortable. But crossing that 1,000⁰F threshold puts us in difficult territory. Will the gasket be exposed to atmospheric oxygen? Will the gasket come into contact with exhaust gasses? Will the graphite oxidize?
To meet these needs ERIKS Netherlands conducted a multi-year research and development project. This project culminated in the launch of an improved line of Phlogopite mica-based sealing products for spiral wound gaskets, kammprofile gaskets, and sheet gaskets. These products have superb chemical resistance, proven sealability that surpasses existing solutions, and excellent response to high-temperature thermal cycling up to 1,800⁰F.
ERIKS North America is proud to bring this new material technology to our state-side customers. It is stocked in our Leader Gasket facility in LaPorte, Texas, where it can be fabricated into sheet gaskets, kamprofile gaskets, and spiral wound gaskets.